Vidita Kamat, scion of the Kamat family is a chef extraordinaire. The pretty, bubbly, energetic young woman talks about her family, food and her brand Mezclaa to Abid Mohammed
Tell us something about the Kamat family?
Our family has been in the restaurant and hotel business for the past 5 decades. I thank my stars to be born in such a family. My parents have always guided me and have instilled the right values in me and my siblings. My dad, Dr. Vithal Kamat is a true visionary and a legend in the Indian hospitality industry. Orchid-The Eco- Tel Hotel, in Mumbai was the pioneer Eco-Tel Hotel in India. My mom has been a support for the entire family and is the woman behind my dad's success. In a nutshell, hospitality runs in our blood!
What is Kamat's famous for?
The Kamat family is famous for its foresight in hospitality industry. Orchid Eco-Tel Hotel is a classic example. The hotel has been designed, built and is maintained keeping environment issues in mind. It is Asia's first five star hotel to win the Ecotel Certification. Dr Vithal Kamat's 'Vithal Vada' served in all Vithal Kamat restaurants is the best appetiser one can have. You have to try it at least once!
How was your childhood?
Though I was average in studies in school and college, it was creativity and innovativeness that inspired me throughout, all thanks to my parents. Mom taught us the values of life and Dad imparted logic and technique. I have always loved cooking, right from my childhood and used to imitate my mom's traditional way of cooking. I loved helping mom in the kitchen and was an eager learner. She taught me how to work with various ingredients and balancing them with the spices. The tradition of 'Athiti Devo Bhava' is ingrained in me since childhood as we had frequent visitors to our home. Cooking and hospitality were my childhood friends!
Were you fussy about food as a child?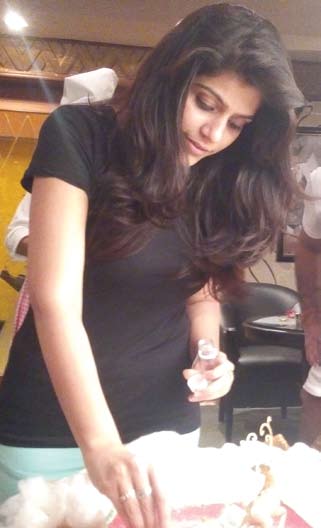 Fussy and me?! (laughs). I love any type of food and when I say this, I mean it. Mom and dad took us everywhere with them, from the high-end parties to road-side dhabas, and my taste buds are quite versatile because of that.
What is your favourite food?
I love all kinds of food. I am a chef who is always eager to taste food from across the globe. Food is like an ocean where there is always something new to explore.
When did you decide to become a chef?
From my childhood. Mom's traditional food and dad's innovative cooking gave birth to the chef in me! Cooking has always been my first love; I love everything that is associated with food and culinary. When I disclosed to my family that I want to pursue my career as a chef, they were like 'Wow'! My dad kissed my forehead and my mom hugged me tightly. My father then guided me to specialise in bakery and confectionary, seeing my interest and creativity.
Where did you train to become a chef?
It began in my mom's kitchen and later at Sophia Polythenic College. After passing the course I trained at the Taj Land's End (Mumbai), The Oberoi's, Mumbai. Orchid and Vits, Mumbai, were my second homes.
How would you describe your style of cooking?
Natural, creative and soothing with a special blend of my spices!
Do you have a signature dish or favourite dish you enjoy cooking?
Everyone drools on whatever I make but the best dish that people really crave for is the classic carrot cake with cream cheese frosting.
What are the new trends in food which you find exciting?
Food is a vast subject and there is always something happening. The culinary art of presenting the same food in a different manner to give it a new look is exciting!
Are there any ingredients that have fallen out of fashion for you?
(Laughs) Whatever is out of fashion is in fashion for me! I don't go by what's trending, instead I try to create things that I know people would appreciate and remember me for. I love being myself and I showcase it through my cooking and baking skills.
What inspired you to start Mezclaa?
I always wanted to have my own brand as an individual. If you see the brand logo it has many things to say. Everything is minutely incorporated with bits of my character in it – that's what 'Mezclaa-Blend It' is all about.
Most chefs have their quirks. What's yours?
My team calls me a 'walking chef' as I am always walking around reviewing food, and talking about hotels and restaurants.
What is your favourite food?
I am born in a GSB (Goud Saraswat Brahmin) family, from down South, so I love the typical South Indian food from Karnataka.
You let customers into the kitchen?
Customers are equivalent to God and are always welcome in my kitchen. I feel proud to show them my art of cooking.
Tell us about the waste management in your kitchen.
This aspect of the restaurant business plays a vital part in my scheme of things. We as a team take care to not waste whenever possible. Food is sacred and its wastage is an insult. If we have surplus food, we donate it to the needy, rather than throwing it away.
What are your ongoing projects ?
Well, this year is going to be quite hectic. We have tied up with EventGuru and are now ready to roll out many projects. Apart from taking Mezclaa to other metros we are also organising workshops, exhibitions, certified courses, a YouTube channel and a TV show.
Which chef do you most admire?
My parents would come first on the list as they are my home-chef's. Next would be my teachers – Chef Linus D'silva, Chef Hufriz Motawara and Chef Meher Dasondi. They were my guides in Sophia College. In my professional life, Chef Sunil Matre from the Orchid Hotel as I have 'grown-up' while working with him, Chef Vikas Bagul from The Oberoi's in Mumbai, Chef Varun Inamdar from Chocolatier, Chef Gaurav Kapoor fron Taj Lands End, and many other chefs from different hotels and restaurants who have helped me understand the nuances of being a chef in some way or the other.
Feelings may 2016