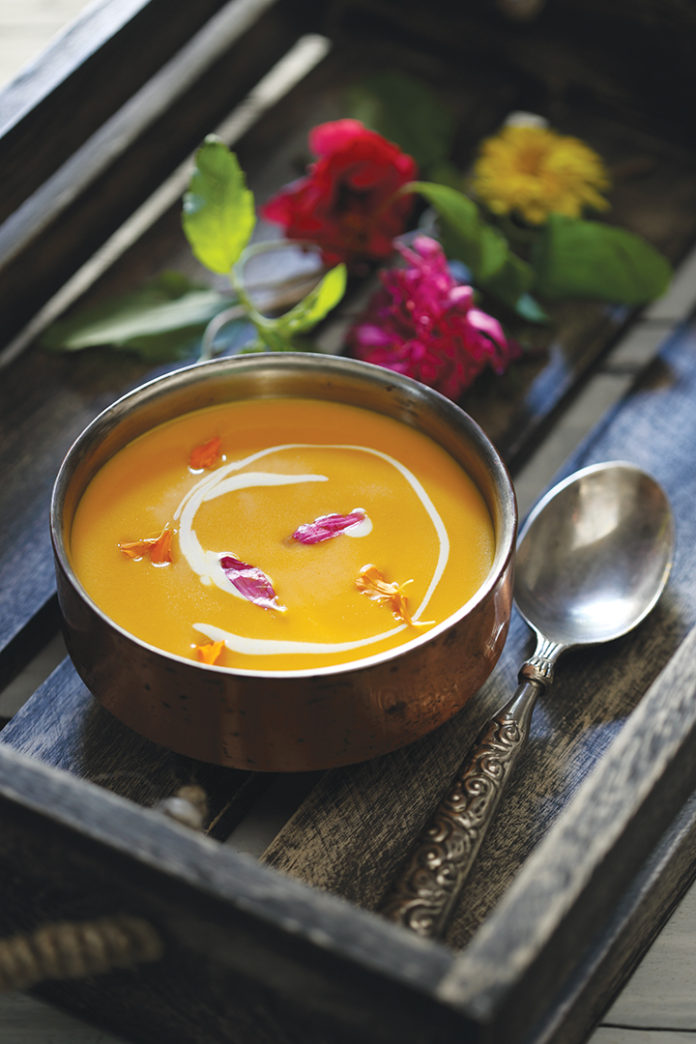 Recipe by Chef Michael Swamy
I love experimenting with different liquids when cooking and tea is one of my most favourite ingredients. Here, I have used flavoured tea to make this subtle soup.
Ingredients:
4 cups diced pumpkin
1 small onion, roughly chopped
2 inch piece fresh ginger, peeled and sliced
½ teaspoon coriander seeds
6 cups water or mild vegetable stock
2 tablespoons rose-flavoured green tea tied in a bundle with cheesecloth
salt to taste
freshly ground black pepper to taste
For garnish
Edible flowers
Heavy cream
Method:
Combine the pumpkin with onion, ginger, coriander seeds and stock in a saucepan. Place the pan over medium high heat and bring to a boil.
Cover the pan and cook, stirring occasionally till pumpkinis cooked through.
When pumpkin is very tender and almost mashy, add tea bundle to the pan, reduce flame to low and simmer for 5 minutes.
Remove pan from flame and allow mixture to cool.
Remove and discard the tea bundle.
Transfer pumpkin mixture to a blender and blend to a smooth puree. Strain the puree into the same saucepan and add salt and pepper.
Heat the soup over medium low flame till hot.
Serve hot garnished with edible flower petals and a swirl of cream.