2020 has been a dismal year, with the pandemic wreaking havoc on humanity and transforming our lives forever. But the good news is that this dreadful year is coming to an end. It's only befitting that we bid adieu to this year of doom and embrace 2021 with revelry and festivity. We are already in the month of December, and winters have always been the flag bearer of parties, merrymaking, good food, and drinks. Let's have a look at the places, which are gearing up to serve the best of winter cocktails and food for the city dwellers to have the best December in an otherwise miserable time.
THE LORDS AND BARONS
The Lords and Barons is all set to open its gate to give you a Christmassy feel this season. Come and indulge in its delicious new assortment of winter special dishes. The Lords and Barons is serving few Chef's special dishes, which are a must-try. It starts with Sunday Chicken Roast, in which a half-roasted chicken with bone is served with mashed potatoes, exotic vegetables, & pepper sauce. Apart from this, it is also serving Smoky Bacon-Wrapped Chicken Sausages, which consists of melting cheese, Dijon mustard, apple, & cabbage slaw and Grilled King Fish, which is served with carrots, mashed potatoes, grilled asparagus, and sautéed exotic vegetables with Mornay sauce. These curated chef special dishes are the main attraction for this winter at The Lords And Barons.
THE LORDS AND BARONS
Address: 20B, Part Street, Kolkata-700016
Time: 12:00 PM – 12:00 AM
TRAFFIC GASTROPUB
Traffic Gastropub is all set for heavy traffic this winter, with its amazing assemblage of platters and cocktails. It is going to serve some delectable winter special savories that include a dish called Overdose, which is a preparation of spicy mutton boti tipped with tangy butter and this tastes really delicious.
There is Sizzling Safar on the menu too, which is an orange juice reduced chicken shashlik served on a sizzling plate. Red Hot is a flambéed slice of twisting grilled pork which is a must try for all the pork lovers. 18+ is a platter of tangling chicken wings doused in rum & Chinese wine and is a must try at Traffic Gastropub. Jalebi Bai is another interesting dish & is made up of orange cilantro, marinated with smoky chicken chunks and non-sweetened jalebi. Basanti Taange wali has a different taste, it is an orangey patisapta, filled with grated coconut and served with shahi phirni shots. If you want to indulge in some desserts, try out their Masti Ki Pathsala, which is rum raisin balls served with vanilla extract ice cream.
The taste is as unique as the names. For drinks, Traffic Gastropub is offering The Apple Cobbler (consisting of bourbon whiskey, La Quintinye Blanc, clove apple syrup, 20ml apple juice, fresh lime juice, and egg white), Cranberry & Rum Warmer (consisting of dark rum, cinnamon, cloves, lime juice, and cranberry juice), Warm Winter Wine (consisting of 1 btl of red wine, caster sugar, cinnamon quill, cloves, star anise, 1 long strip orange rind, and lemon slice). So, cram this place with your pals and have a gala time this chilly winter, with Traffic's winter specials. Each drink has its own USP and one must taste them all to get the tipsy feeling while being stuck in the traffic.
TRAFFIC GASTROPUB:
Address: 2 Floor, City Centre 2, Rajarhat, Newtown, West Bengal-700157
Tenure: From 10th December onwards
Time: 12:00PM-10:30PM
MINISTRY OF BOOZE
Ministry of Booze is all ready to set the party mood with its amazing offerings. They are serving the winter special food and cocktails from the 15th of December, and it will continue till the 31st of the month. For food, they are coming up with dishes like Spaghetti Picante, consisting of EVOO, olive, jalapeno, sundried tomato, herbs, and Peene Ala Vodka, which is made up of Spicy Arrabbiata Sauce & Vodka. Don't worry! There are several more mouth-watering offerings that will surely excite your taste-buds. The Pepperoni (Pizza) is dressed with classic pork pepperoni with chilli flakes. Baked Corn & Spinach Casserole is made of fresh spinach and cheesy fondue sauce baked with melted mozzarella.
Then there's Patiwala Tawa Prawn, a dish consisting of tomato fenugreek cream, coriander, and an egg. Braised Sliced Chicken is prepared in a Hunan style spicy sauce, with celery and leek, and served with fried rice or soya noodles. Ministry of Booze has curated some fine cocktails for winters, which include tequila-based Holy Blood (consisting of lime and cherry), gin-based Wizards Mist (consisting of sweet lime and clove), wine-based Berry Sangria (with grapes and lime spring), Peach & Honey Sangria (red grape & mint spring), and Fresh Garden Spitzer (red grape & mint spring). All the cocktails are finely curated and will make you feel like hitting the place again and again.
MINISTRY OF BOOZE:
Address: 1st floor, Pecon Tower, DH Block (Newtown), Action Area I, West Bengal-700156
Time: 12:00PM-12:00AM
Tenure: From 15th December to 31st December
CANTEEN PUB AND GRUB
Canteen Pub and Grub is ready to serve you its winter special food and cocktails and present you with the canteen vibes that will make you reminiscent of your college days. It will be offering three delectable dishes like Chicken Picata with Orange Beer Sauce, Latte Brule with Orange Caramel Sauce, Sea Salt and Mint Foam and Pineapple & Honey Roast Ham. Chicken Picata with Orange Beer Sauceis a dish made up of chicken and orange juice accompanied with wheat bear. Whereas Latte Brule with Orange Caramel Sauce, Sea salt and Mint Foam is one such dish in which all the four segments of the dish are prepared separately and served altogether, this is a mouth-watering dish. Lastly comes Pineapple & Honey Roast Ham, this preparation consists of coriander seeds, orange zest, cloves and pineapple juice.
This dish is one to look out for at Canteen this winter. If you are visiting Canteen Pub and Grub don't forget to taste these absolute lip-smacking dishes. To make you groove and feel tipsy amazing set of winter cocktails are also ready to be served. Dark rum-based Dragons Breath made up of Lime, Spiced orange marmalade and Dark Rum. Whisky-based Warm Winds which is a mixture of Lime, Bourbon, Maple Syrup and Rosemary, and gin-based Whistle Blower which is a mixture of Lime, Gin, Pomegranate, Molasses, cranberry juice with assorted fruit lollipop is on the winter special menu. As unique as the names are, the punch will blow your mind too. It is going to start serving these drinks from 25th of December onwards and will continue till 5th of January. So, don't miss out on your chance to hit Canteen Pub and Grub and amp up your party vibes with this impressive collection of cocktails. Groove to the crazy tunes of the DJ and make your December memories memorable.
CANTEEN PUB AND GRUB:
Address: City Centre 1, DC Block, Sector 1, Bidhannagar, Kolkata, West Bengal-700064
Time: 11:00AM – 10:30PM
Tenure:25th December – 5th January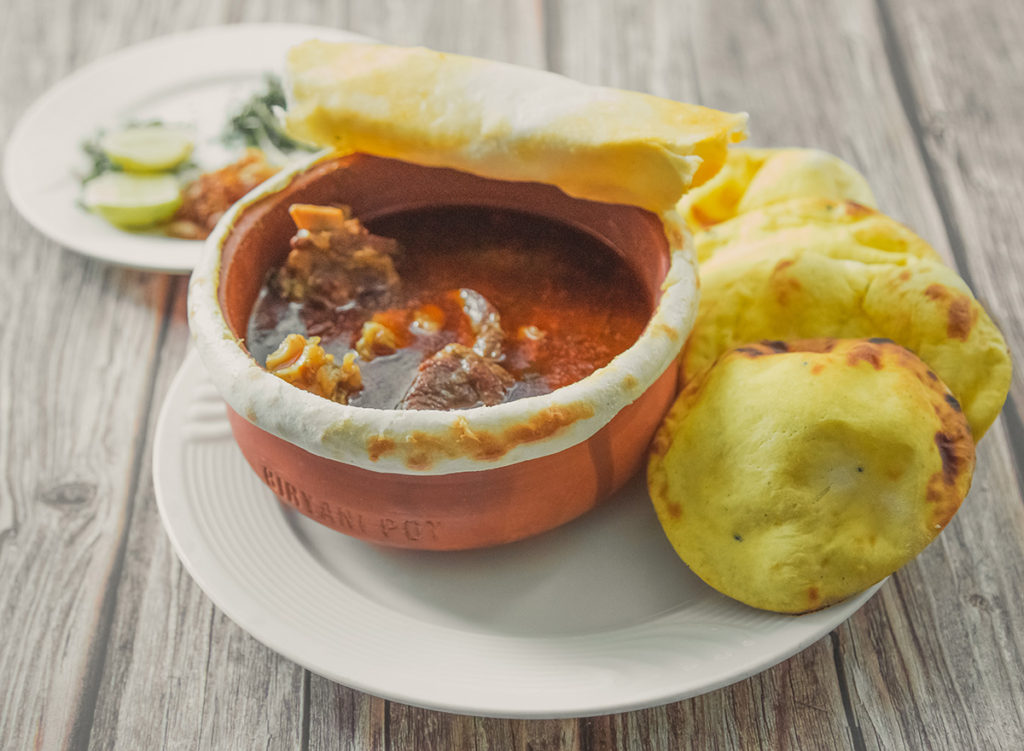 AMINIA
Aminia is all set to make your winter memories indelible with its delicious Nalli Nihari with Taftan (Nihari is a slow-cooked mutton curry). It will also be serving the classics, the mouth- watering Chicken Handi Biryani, and Mutton Handi Biryani. Mutton Handi Biryani is a dish in which the meat and rice are cooked together with a small amount of ginger garlic paste, coarsely ground red chilies, and other essential spices to lend a tender taste. This eponymous dish is basically cooked in a handi and hence the moniker. Similarly in the preparation of Chicken Handi Biryani, the meat and rice are cooked together with a small amount of ginger garlic paste, coarse ground red chillies, and other needed spices to spice it up. This is also an eponymous dish as it is also cooked in a handi and thus the derivation of the name. So, stop drooling, grab your plates, and indulge in these delectable dishes this winter.
AMINIA:
Chinar Park: Rajarhat Main Rd, opposite Karnataka Bank, Chinar Park, Sukanta Pally, Baguiati, Kolkata-700136
Time: 11:00AM- 11:00PM
Tenure: From 3rd December to January
EKDALIA COCINA
Ekdalia Cocina is a beautiful dine-in place that has already started serving its winter specials from the beginning of December. It is serving dishes like Fish Florentine i.e. poached fish, cooked in a creamy sauce and served on a bed of spinach, Baked Fish i.e. fillet of fish, set on a bed of white sauce and baked to perfection, also serving Grilled Whole Bhetki, which is whole Kolkata Bhetki, stuffed with veggies and prawns, grilled to perfection, and served on a bed of roasted almond butter rice! Ala Kiev is also part of the menu; this is basically a stuffed chicken breast cooked beautifully and tastes delectable. Stroganoff is a dish consisting of strips of chickens cooked in mushroom gravy and served with rice. Cordon Blue is chicken wrapped around ham and cheese, crumb fried and served with rice and creamy sauce. No, don't be disappointed! It does not end here. There's more to come. It has Goulash, which is originally a Hungarian Curry where meat is cooked with baby potatoes and other veggies! Spare Ribs is a preparation of short pork ribs, cooked in barbecue sauce, served with veggies and rice. One can also opt for Burgers with his/her choice of meat, supplemented with veggies and dressing stuffed between buns and served with potato wedges. Forget all your worries this winter, pay a visit to this exceptional place, and indulge in the delectable offerings.
EKDALIA COCINA:
Address: 68, Ground Floor, 14 PC Sarkar Sarani, Gariahat, Kolkata
Time: 8:30 AM – 10PM
Tenure: Going On
SYMI
SYMI is ready to make your December memorable with its myriad offerings of food, desserts, and of course, coffee. This newly-opened café is ready to grant you the best café experience and make you fall in love with winters all over again. It will be serving Red Velvet Crumble Latte, Cinnamon, and Almond Latte in its coffee segment that will surely win the hearts of coffee lovers. It will also be serving the appetizing Orange and Milk Crème Brulee. For desserts, Symi will serve Red Velvet and White Chocolate crepes, which are a scrumptious affair. For food, it has Moroccan Lamb/ Chicken balls, which are tasty enough to stimulate everyone's taste buds and make people happy this winter.
SYMI
Address: 7/2B, Dover Lane, Gariahat, Kolkata
Time: 12 noon – 10PM
Tenure: From 15th December to 15th January
SPICE MARKET
Spice Market is all set to serve delectable dishes and succulent cocktails this winter. Soup is the best thing to gorge yourself on during winters, and the owners of Spice Market are well aware of that. Thus, they will be serving Sea Food Soup, which consists of prawns, fish, egg white, wine, and Chicken Wonton Soup, which consists of minced chicken, wonton wrapped along with chicken stock water. For food, they will be serving Crispy Chilli Mushroom, which is made of button mushroom, onion, green capsicum, green chili, and spring onion. Pan-fried Chili Fish is also on the menu. It is made of sliced fish, capsicums, onion, spring onion, chilli paste, tomato ketchup, white vinegar, and wine. Also on offer is Szechuan Chicken, which is made of diced chicken, red, yellow, green capsicum, onion, celery, ginger, garlic, chilli paste, tomato ketchup, and wine. For prawn lovers, they are serving Prawn Pepper Salt, which is made up of tiger prawns along with red, yellow, green capsicum, onion ginger, garlic, crushed pepper, spring onion, and chopped chilli giving it a unique taste. For fish lovers, Red Pepper Fish and Fish Tikka Masala are also available. Mutton Keema Mattar is another savory dish that will be served. It consists of mutton keema, green peas, onion mixed with tomato/ginger/garlic/ green chilli. Veg lovers can indulge in Paneer Butter Masala, a dish in which Paneer is cooked with cream/butter/mawa, and Kasturi methi. Chicken Tikka is a classic item where the chicken is marinated with spicy herbs and cooked in tandoor. Mutton Seekh Kebab is a dish in which minced mutton is marinated with ginger/ garlic/ spicy herbs and cooked in tandoor. This palatable dish is also a part of the menu that you can gorge on this winter.
For drinks, they will be serving B-52 that consists of Balleys, Kahlua, and Cointreau served in a shot glass. Apart from that, there is Margarita, which is a tequila-based cocktail. It is a mixture of tequila, Cointreau, a dash of fresh lime juice, served in a salted rimmed margarita glass. Jagerbomb is also available here. It consists of Jägermeister, red bull, served in a whisky glass. Daiquiri is another offering here at Spice Market, which consists of white rum and lime cordial served in a martini glass. So, if you want to have a filling meal long with spectacular cocktails during this winter, this is your go-to place.
SPICE MARKET
Address: 174, Sarat Bose Road, Desapriya Park, Kolkata
Time: 12 noon – 11PM
Tenure: Ongoing
All these aforementioned places have their unique assortment of delicacies. Go and have a blast this December!